HealthInfoNet continues to lead the nation in developing and deploying a population health reporting and predictive analytic platform that is based upon clinical and patient encounter data.  The analytics and reporting platform use real-time data from across the care continuum to help providers drive quality and cost improvements, manage risk and population health, and inform operational decision making.
During 2015, HealthInfoNet successfully combined both clinical and claims data on an event of care basis further enriching the predictive modeling tools it provides.  This expansion of the population health and analytic database strengthened the predictive models in support of patient risk stratification and clinical care planning.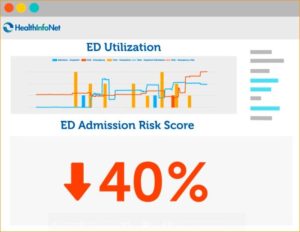 Our Analytics & Reporting Platform:
Combines clinical and claims data
Proactively keep people well
Reduce cost, increase productivity 
Penobscot Community Health Center adopted best practices by incorporating the HIN Analytics & Reporting Platform into their daily care management huddles to identify high-risk patients.
Case Study
St. Joseph Healthcare outcomes using HIN's Analytics & Reporting Platform:
15% Reduction in ED Visits
5% Reduction in 30-Day ED Return Rate
2% Reduction in Admissions
13% Reduction in 30-Day Readmissions
1% Reduction in Inpatient Days
5% Reduction in Cost Per Person
37.3% Reduction in Hospital Mortality