HealthInfoNet recently completed data visualization projects developed for Maine CDC and MaineCare to support better care for Maine residents. These projects represent innovative ways HealthInfoNet is working with customers to enhance the value of the Health Information Exchange.
Maine CDC Quality Measures Dashboard
Maine CDC now has a customized statewide view of all Maine residents for the National Quality Foundation (NQF) measures for Diabetes and Hypertension. This dashboard leverages de-identified HIE data to run statewide community-based quality measures and helps the CDC monitor incidence and trends for these chronic diseases. Funding for this work is provided under a Maine CDC Prevention and Control (PAC) Grant.
Click here for a demonstration.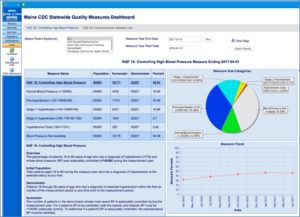 MaineCare Utilization Reporting Tool
MaineCare can now evaluate inappropriate use of the Emergency Department and unnecessary Hospital Admissions for their members with a customized view of the clinical and claims data.
The goal of this project under the SIM Grant was to automate a process to reduce the administrative burden for hospitals and MaineCare to provide useful, actionable data to manage this high-cost, high-utilizer population.
Click here for a demonstration.