In early 2022, HealthInfoNet began having one-on-one conversations with some of its participants to understand how to receive their social health and/or sexual orientation and gender identity (SOGI) data sets. What became immediately evident was that while each participant was on its own strategic trajectory, each was also curious as to what others in the space were doing to advance their data collection, storage, and use case efforts.
And so, our Health Equity Data Action Plan convening series was born. Formally known as our Social Health Data Action Plan (since broadened to be inclusive of additional data sets), the effort was designed to create a forum in which healthcare providers across the state could share lessons learned, best practices, and emerging priorities for collecting, storing, and using health equity information.
Our five-part convening series lasted just over three months (from January 2023 through March 2023), during which we brought in industry leaders to frame the conversation, held "deep dives" with health system and health center stakeholders to understand technical capabilities and staff workflows, and concluded the discussion with a set of recommendations on how HealthInfoNet may be able to assist with next steps in conjunction with the state's ongoing Community Information Exchange (CIE) planning efforts.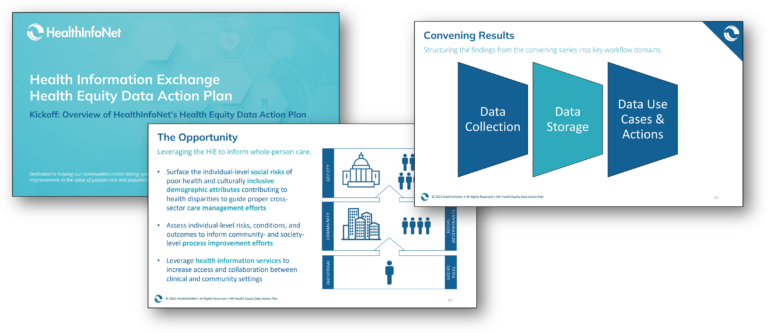 A special thanks to our presenters and attendees for their time and commitment to this important work. It's a privilege that we at HealthInfoNet can serve as a facilitator to help guide and inform ongoing health equity efforts in the state.
A few key resources developed through this convening series include:
As a result of our convening efforts, HealthInfoNet is now in active conversations with a leading social services provider in the state to determine the best approach for integrating client-level social services information within the statewide HIE alongside available medical history information. We look forward to providing additional updates as the pilot project progresses.
For questions or additional information about HealthInfoNet's health equity efforts and its partnership with the Maine CIE, please contact our Clinical Education team at clinicaleducation@hinfonet.org.