HealthInfoNet is dedicated to helping our communities create lasting system wide improvements in the value of patient care.
Explore our HIE services, including how they are being used across the care continuum and how to get trained on their use and function.
Long-term care (LTC) patients commonly have complex chronic care needs that result in frequent transitions among their homes, acute, post-acute, and LTC settings. When these transitions of care occur, seamless care coordination and continuity of care practices become even more important for providers to achieve in their patient interactions. Critical to this effort are HealthInfoNet's trusted and reliable Health Information Exchange (HIE) services.
Top Long-Term Care Use Cases & Interventions

Begin Learning How HealthInfoNet Can Support Long-Term Care Teams
evaluate referrals & preadmissions

Conduct medication reconciliation


manage transitions of care

identify gaps/overuse of care

support performance measurement

I utilize HealthInfoNet is just about everything I do. The real-time access to our patients' medical information facilitates the way we deliver care better than ever before. The 'hurry-up-and-wait' scenario to search for and track down records via fax or telephone is no longer necessary. It's a wonderful asset."
Michelle Gagnon, CNP, Nurse Practitioner
Genesis Physician Services
Creating Coordinated Long-Term Care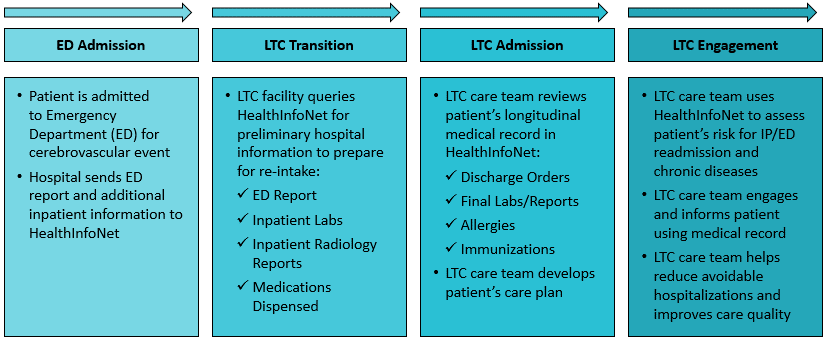 is your organization interested in becoming a participant?
Complete our online participant inquiry form to help us understand a bit more about your organization. We'll get back to you shortly!
is your organization already a participant & wants to learn more?
Contact our Clinical Education team to start using HealthInfoNet's HIE services effectively at your organization. We're here to help!